The Greatest Traitor

The Secret Lives of Agent George Blake
On 3 May 1961, after a trial conducted largely in secret, a man named George Blake was sentenced to an unprecedented forty-two years in jail. At the time few details of his crimes were made public. By his own confession, he was a Soviet spy and rumours laters circulated that he had endangered dozens of British agents, but the reasons for his severe punishment were never revealed. To the public he was simply the greatest traitor of the Cold War. Yet Blake's life story is not just a straightforward one of treachery to his adopted country, but is also one which has seen him scale the heights of heroísm.
In WWII the teenage Blake performed sterling deeds for the Dutch resistance before making a dramatic bid for freedom across Nazi-occupied Europe. Later recruited by British Intelligence, he quickly earned an exemplary reputation and was entrusted with building up the Service's networks behind the Iron Curtain. He also suffered for his country, when a posting to Seoul resulted in his capture by North Korean soldiers at the height of their brutal war with the South.
By the time of his release in 1953, Blake was a hero, one of the Service's brightest and best officers. But unbeknownst to SIS they were harbouring a mole. Week after week, year after year, Blake was assiduously gathering every important document he could lay his hands on, and passing them to the KGB.
Drawing on hitherto unpublished records from his trial, new revelations about his dramatic jailbreak from Wormwood Scrubs, and original interviews with former spies, friends and the man himself, The Greatest Traitor sheds new light on this most complex of characters and presents a fascinating shadow history of the Cold War.
Interview on the Jeremy Vine Show
My extended interview on the Jeremy Vine Show (Radio 2) in April 2013 about The Greatest Traitor. Halfway through it we are joined on the line by Michael Randle, the peace activist who helped George Blake to make his dramatic escape from Wormwood Scrubs prison in October 1966.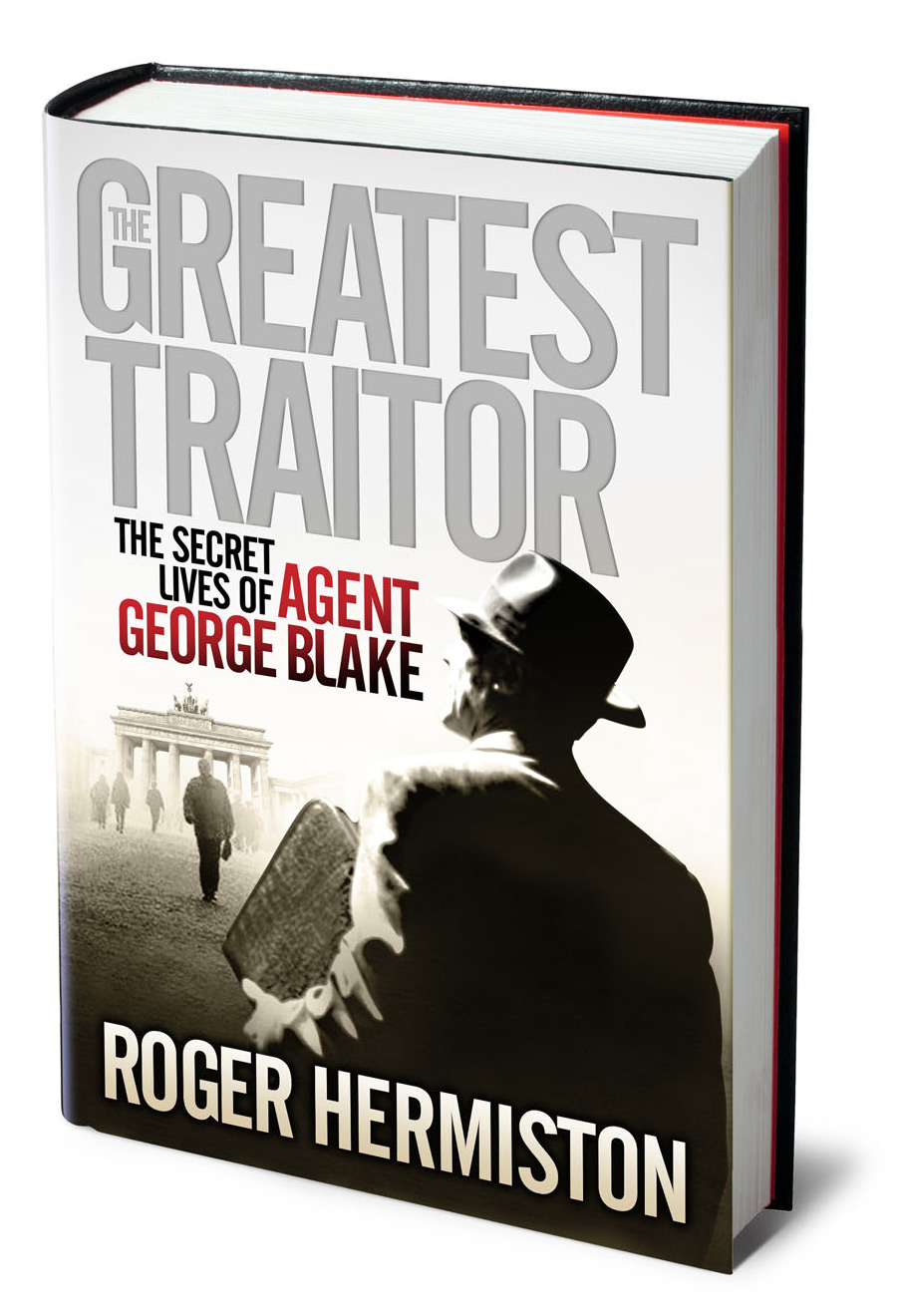 'Sober, accurate and all the more thrilling for it. The best thing on Blake we are likely to get for a very long time'

John Le Carré
Praise
'A gripping portrait of one of the Cold War's most devastating double agents. A real page-turner.'

Caroline Jowett
Daily Express

'One of the most argued-over spy stories of the 20th century is brought thrillingly to life by Roger Hermiston, who avoids the trap of painting his anti-hero only in black and white. Blake was a traitor but also a diligent soldier; he received a 42-year sentence in a trial whose evidence could not be reported. His escape from prison - in a way that would be farcical in any other context - created a kind of legend. At every turn the gripping writing reminds you of a world of spies and betrayal that was so much a part of life in post-war Europe. It makes for a brilliant read: Roger is a brilliant researcher and writer of this painful, colourful chapter in our history; and writes in a way so objective and unslanted that the reader is challenged to decide what to make of his subject. Superb from start to finish.'

Jeremy Vine

'Thrillingly described'

Choice Magazine - Paperback Book of the Month

'Hermiston's book tells Blake's backstory in fascinating detail.'

Simon Heffer,
New Statesman

'Hermiston's account is unlikely to be bettered... He makes good use of hitherto undisclosed material and seeks not only to describe but to understand, surely the biographical holy grail.'

Alan Judd
Spectator

'***** Hermiston offers a fascinating account of a life in which communism was the only constant. The jailbreak episode is a masterpiece of narrative tension.'

Daily Express

'The story of Blake's arrest, confession, sentencing, imprisonment and escape suggests that Roger Hermiston should be writing spy novels. It is gripping in its detail. Even more appealing is Hermiston's reluctance to sit in judgement on Blake. As he points out, Blake was not brought up in this country and genuinely saw parallels between his own religious beliefs and Communism. As Blake himself pointed out: "The real spies are those who are not paid and do it for conviction".'

Scotsman

'An excellent book that reads more like a spy thriller than a biography.'

Tribune

'Hats off to Roger Hermiston for bringing to life the exploits of this Second World War resistance fighter turned Soviet agent. Hermiston spins a yarn of high adventure, of a life ennobled by wartime valour only to be laid low by the twisted belief in the means justifying the end, even if this meant betrayal of one's own country.'

Military History Monthly

'The bones of Blake's story are well known. Hermiston's account, however, adds well-researched details which bring it to life. The result is a book as riveting and tightly written as a John le Carré novel'

Michael Randle Camden New Journal)

'An enjoyable romp through the life of George Blake, MI6's deadliest traitor. Roger Hermiston has produced an enjoyable account of the life and works of a creepily amoral man who still betrays an astonishing ability to duck the consequences of his crimes.'

Stephen Robinson
Sunday Times

'Eastern Europe was riddled with spies throughout the 1950s, but no one on either side amassed such a wealth of information to pass on to the KGB as the double agent, Blake. For decades, Blake had run rings round Britain's Secret Intelligence Service. How did he get away with it; and for so long? The Greatest Traitor and Britain's mostly closely guarded criminal very nearly had to serve the longest prison sentence (42 years) ever awarded. George Blake's audacious plan to escape to freedom behind the Iron Curtain by scaling the walls of Wormwood Scrubs came within an ace of discovery. His escape from Wormwood Scrubs in 1966 is thrillingly related by Roger Hermiston.'

Christopher Hudson
Daily Mail